Admin Extension
Warning! This page is part of the admin extension and is NOT included on Porto - Multipurpose Website Template, to get all features, purchase both templates: Porto ($16) + Porto Admin ($16): $32 Total.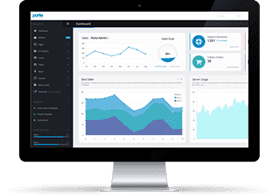 Flot Charts
Flot is a pure JavaScript plotting library for jQuery, with a focus on simple usage, attractive looks and interactive features.
Morris Charts
Good-looking charts shouldn't be difficult.
Chartist - Simple Responsive Charts
You may think that this is just yet an other charting library. But Chartist.js is the product of a community that was disappointed about the abilities provided by other charting libraries. Of course there are hundreds of other great charting libraries but after using them there were always tweaks you would have wished for that were not included.